Age is nothing but a number…The older the number the better the opportunities.
Research indicates that a 55-year-old and even a 65-year-old have more innovation potential than a 25-year-old.
What opportunities can you create?
Tell Us About Yourself
---
Marcia Duhart, creating entrepreneurial solutions after the age of 50
During her final years at Merrill Lynch, where she trained people to use computers, she devoted several days off to testing her idea of teaching computer skills to the elderly. She realised elderly people felt out of the loop when everyone is talking about emails.
After retiring from Merrill Lynch in 1998, she founded CyberSenior Services, teaching at senior centers and giving one-on-one classes for $35 to $45 an hour.
---
Tell Us About Yourself
Mary Tennyson started her business at 63
Mary Tennyson came up with her idea after her 92-year-old mother stumbled, fell and broke her hip. Her mother had trouble carrying a bag. So, Mary came up with the idea of a pocketbook that attaches to a walker, which was called StashAll.
---
Tell Us About Yourself
Cinde Dolphin, 56, when job rejections lead to entrepreneurship
After 24 years as a marketing manager for Coors, Cinde Dolphin knew what was coming — Miller and Coors had just merged their United States beer operations, and hundreds of jobs were sure to be eliminated. So, Cinde took a buyout. At the age of 55, she began applying for marketing jobs but that didn't work out well. So, she took an alternate track and started a public relations firm that helps winemakers in California.
---
Tell Us About Yourself
Charlie Bright, 60, started a bakery business without having any baking skills
After a variety of jobs and few failed businesses this 60-year old entrepreneur was looking for a business opportunity. In 2011, Charlie got to know that a small bakery shop in his area would go out of business soon if no one bought it. He knew nothing about baking but he wanted to start a business. So, soon he made up his mind and announced his intention to buy the small bakery.
He set a goal of doubling his investment in one year, which he almost achieved. Now they are planning to relocate.
---
Tell Us About Yourself
Ben Van Praagh
Ben Van Praagh is 75 years old, and is still a serious entrepreneur. He's been involved in 6 "major businesses" throughout his long career beginning with a small engineering company that he found when he was 19 years-old. Van Praagh believes that his background helped prepare him to become an entrepreneur. "I am the youngest of nine children and I know how to fight metaphorically and literally, more metaphorically these days," he says. "Being a self-starting person, running your own business and being responsible for turnover and peoples' wages isn't an easy task and it isn't for everybody."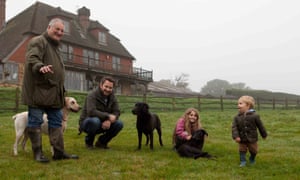 At the age of 74, Van Praagh started his own dog food business. He conducted 18 months of market research and product testing before launching his business. This particular business sprung from my passion for feeding dogs a healthy diet. This, in turn, leads to a healthier, happier dog, living longer," he says. "Prior to the second world war there were very few manufactured dog foods – after the war, a whole industry sprang up. It was done from waste, mostly from the grain mills. A dog's digestive system can't take grains; they are not naturally a grain eater."
Van Praagh's goal is to be the largest raw dog food company in the United States. He has a lot of confidence in his product and strongly believes that he can achieve his goal. Van Praagh's also believes that his age isn't slowing him down one bit. "I am the same as when I was a young man, in business matters I am exactly the same. I work as many hours as I did, I take the same risks and I am as confident as ever," he says.
---